Friendly reminder: no school today for parent-teacher conferences.
Today is Spirit Day. Show your school pride with Sacred Heart spirit wear. Please no athletic pants or shorts. Also, today is PICTURE RETAKES and NOON DISMISSAL.
Today is the Jog R' Walk! Athletic free dress. Please have your students wear their Jog R' Walk t-shirt and dress appropriately for the weather. Students are NOT required to wear Mass dress today.
24 Hours!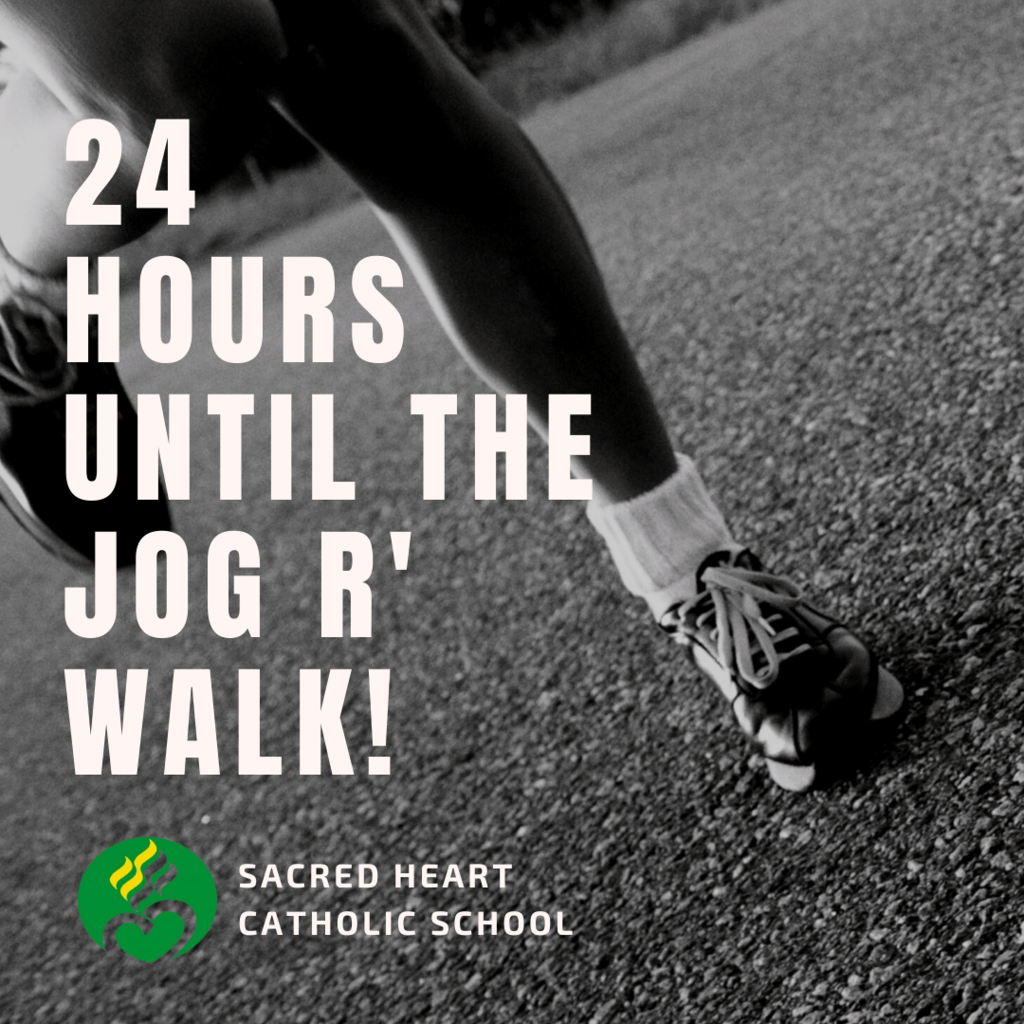 Mark your calendar for SHS's Trunk or Treat on October 30th from 11 am and 1 pm. And make sure you've got lunch covered by pre-ordering a hot dog or hamburger meal. All proceeds benefit the 8th Grade Scholarship & Graduation Fund. Thank you for your support! Follow the link to order:
https://payit.nelnet.net/form/uSiHrc75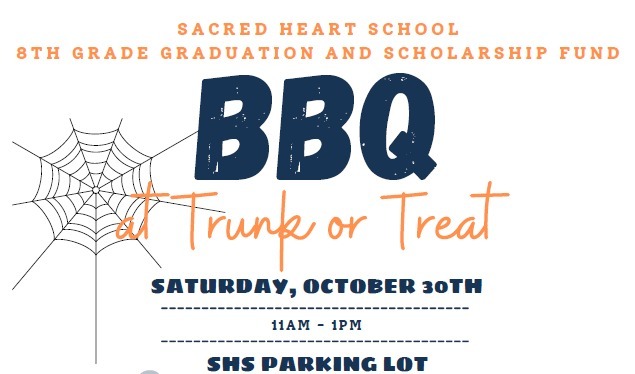 T-minus 5 days until the annual Sacred Heart Jog R' Walk! Don't forget to continue to collect pledges over the weekend!
Tonight is our Fundraiser Noodles and Co! From 4 to 9 pm, we can earn up to 25% back at the Milwaukee location. Hope to see you there!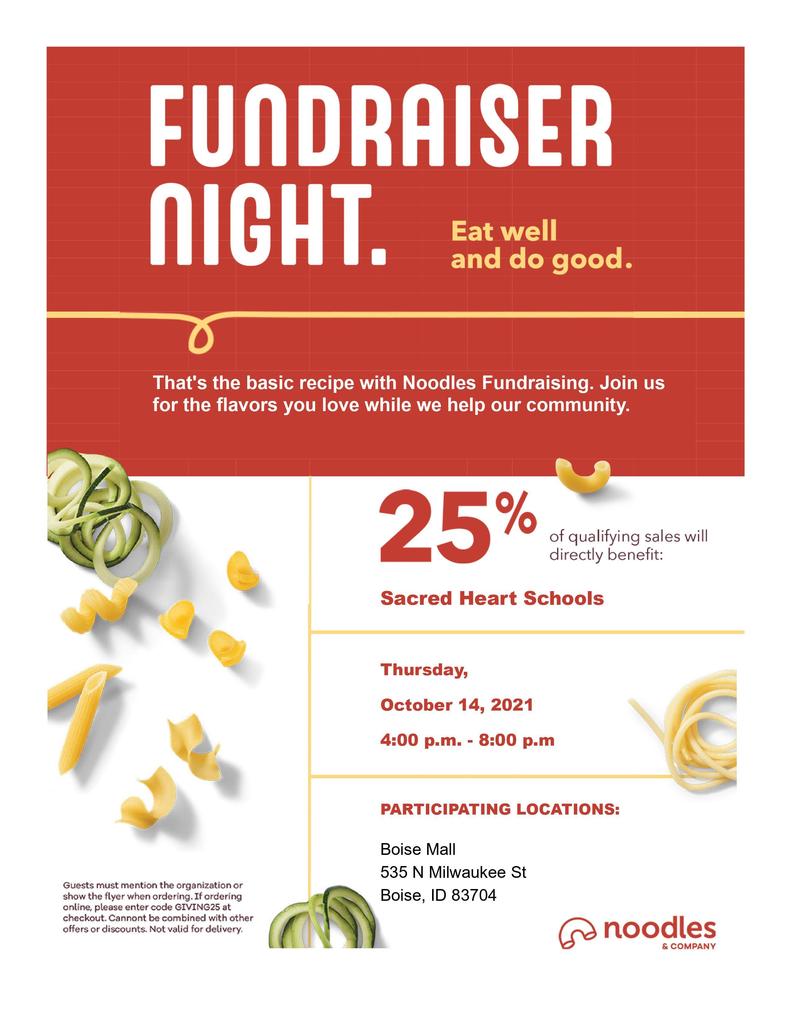 Many thanks to the Idaho Catholic Register for the heartfelt story!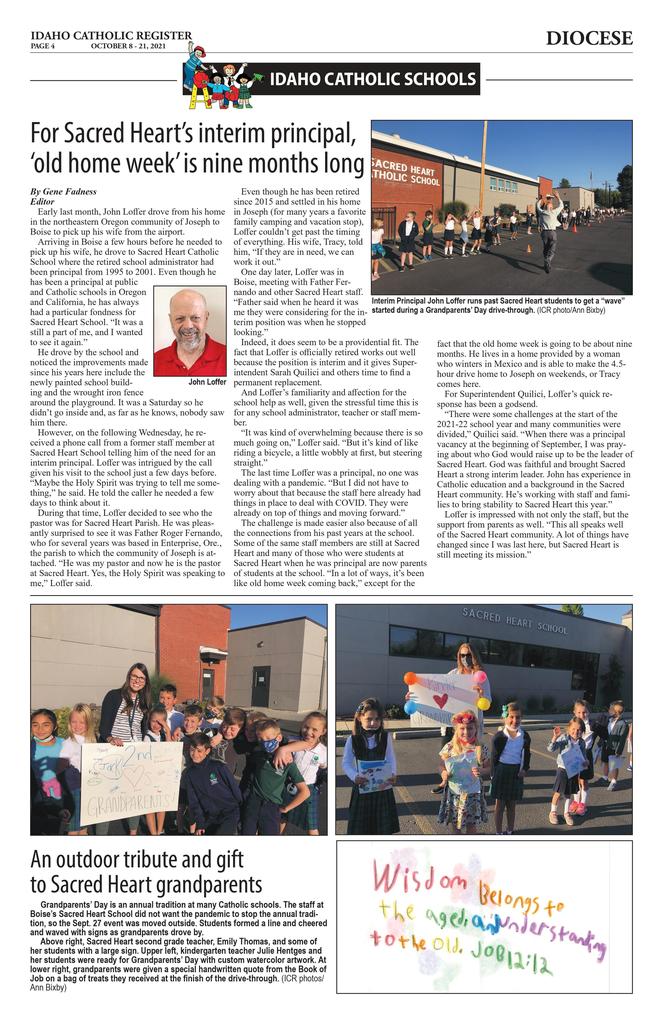 Please join us tonight for our Ice Cream Open House! Mr. Loffer will start with an opening prayer and announcements on the field at 6:30. Then, your children can give you a tour of the school and come back outside for some ice cream. Hope to see you there!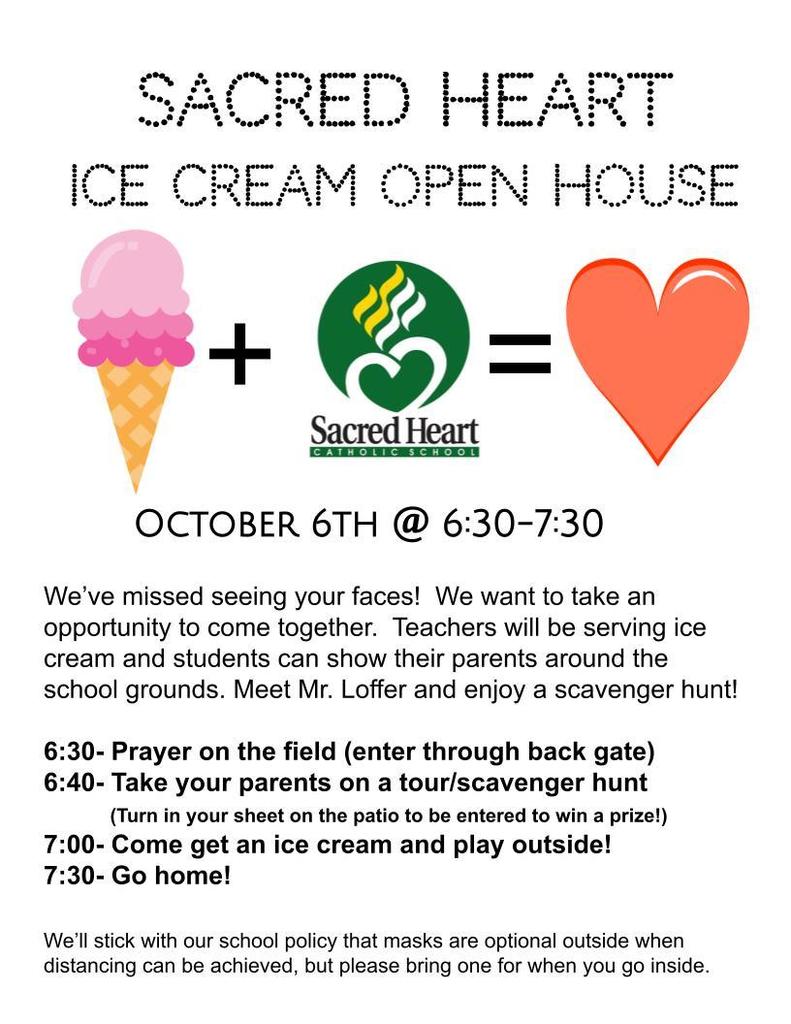 Don't forget!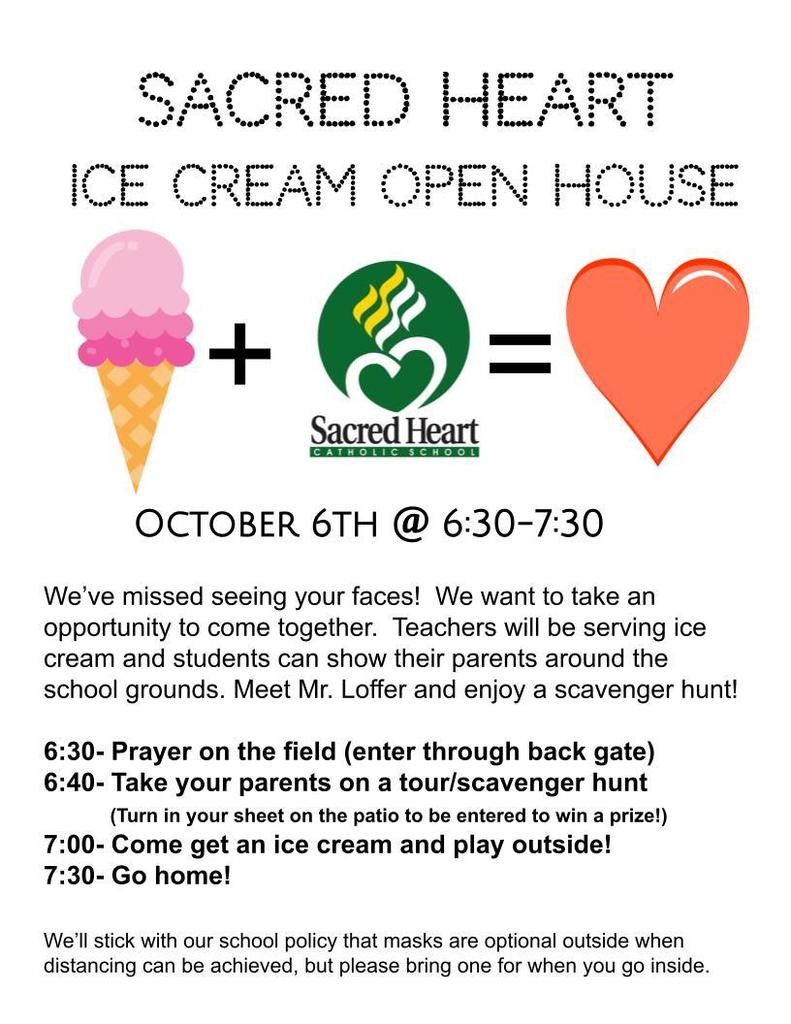 Don't forget! This is your chance to win $250...TWO more days to enter!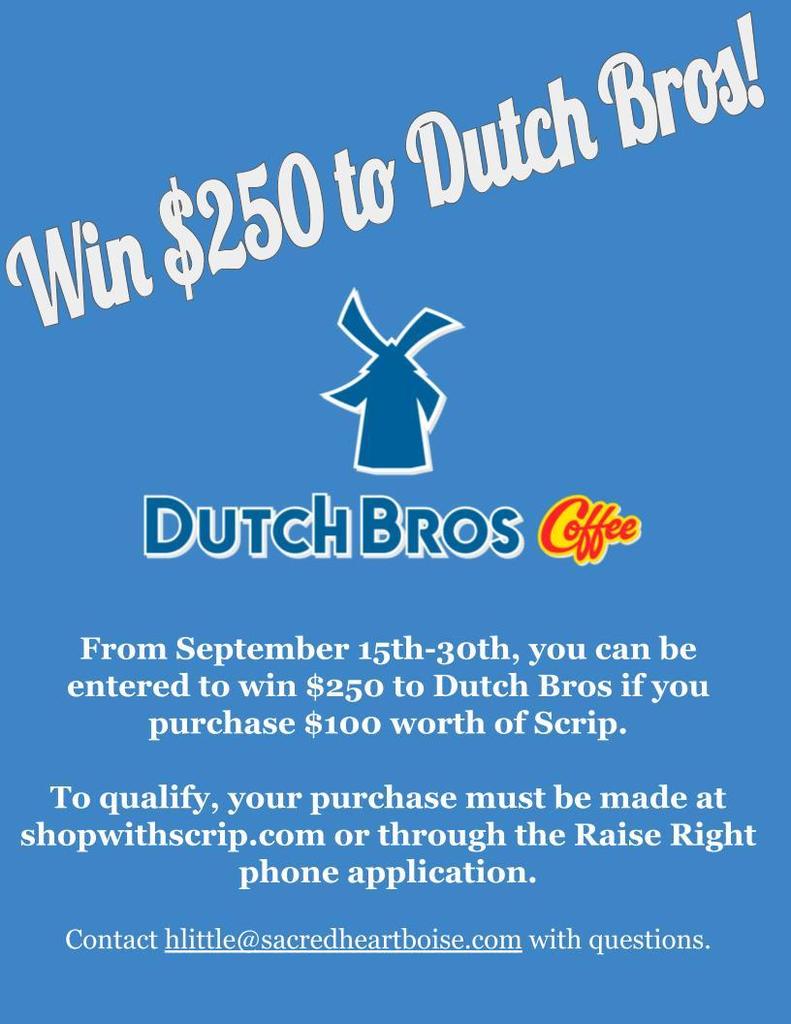 Mass 8:30 (5th - 8th graders) - 8th grade Leadership Mass. MASS DRESS REQUIRED
Donation free dress!! Our 7th and 8th graders will be heading to MOSS camp in McCall at the end of October. Any donations help them pay their way for this outdoor experience.
Mass 8:30 (K-4th grades) - 3rd grade will be leading Mass. MASS DRESS REQUIRED.
Tonight is our Fundraiser Night with Café Zupas!  From 4 to 9 pm, we can earn up to 25% back at the Milwaukee location. For online pickup and delivery, visit cafezupas.com and enter FUNDRAISER25 at checkout!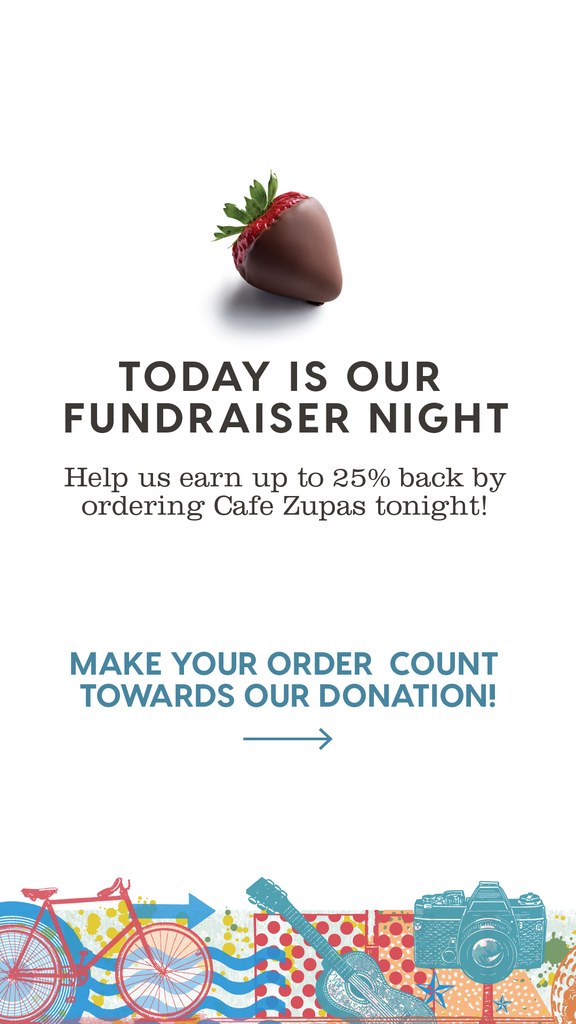 Scrip orders are due by 9 am tomorrow! Don't forget! You still have a change to win $250 to Dutch Bros! To qualify, a purchase of $100 or more must be made online through shopwithscrip.com or through the Raise Right app.
Don't Miss Out! Tomorrow is our Fundraiser Night at Cafe Zupas. Mention Sacred Heart Catholic School to the cashier if you order in-restaurant or enter Fundraiser25 at checkout online or via the Cafe Zupas App. 25% of purchases made will go back to our school!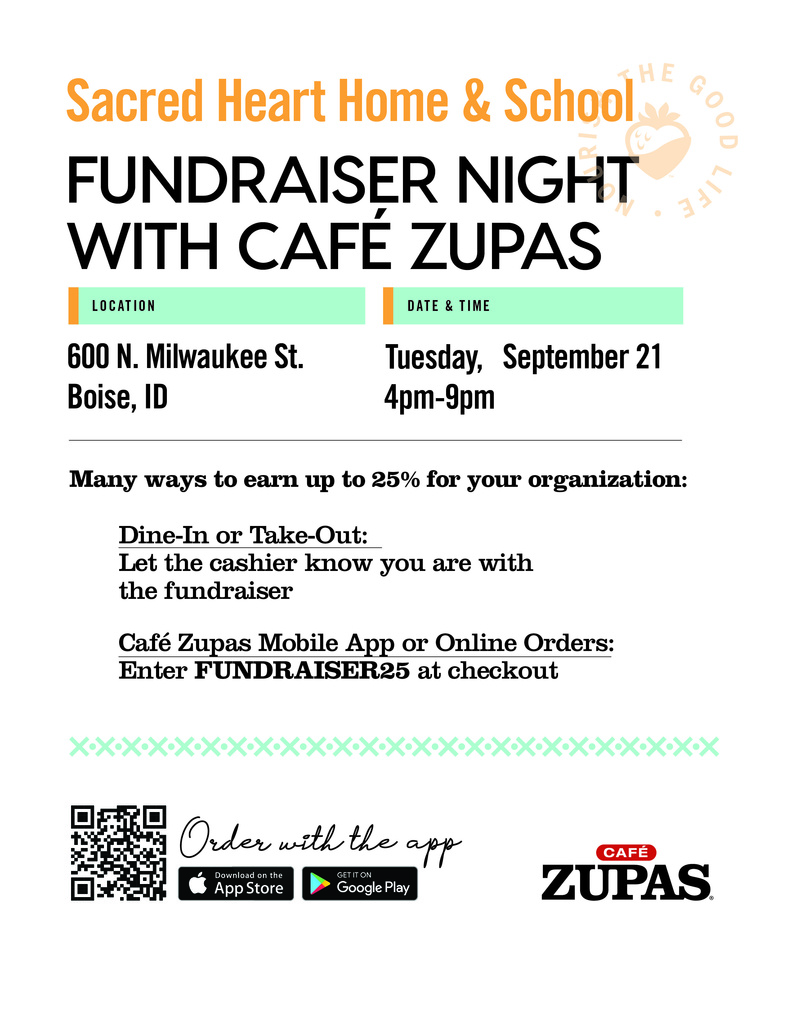 5th - 8th grade- MASS DRESS REQUIRED (Girls that do not have a plaid jumper/skirt/or skort, you are allowed to wear a navy blue jumper/skirt/or skort. Boys can wear navy blue ties/bow ties if they don't have a SHS plaid)