Weekly Letter from the Principal
Brock Carpenter
Thursday, September 12, 2019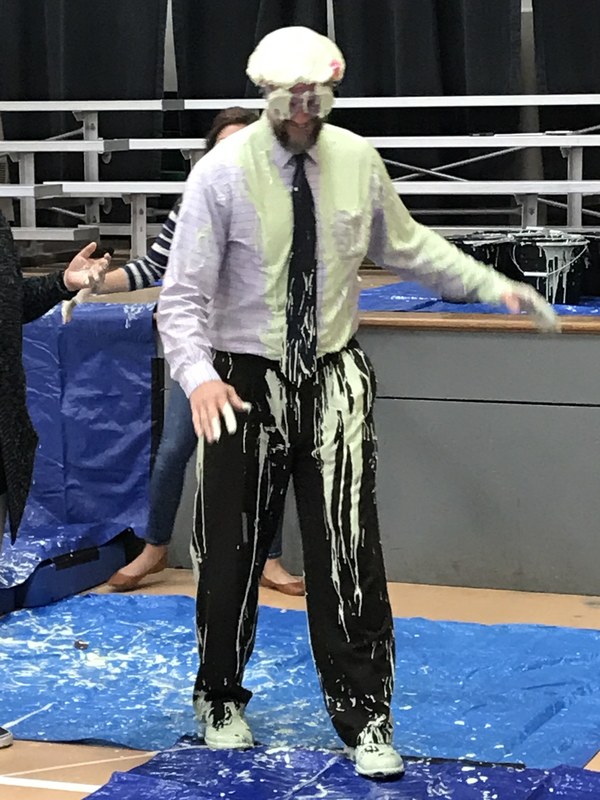 Last year's "Slime the Principal" for Jog-R-Walk success!
September SLE – Spiritual Growth in the Catholic faith: Our contagious joy must be our first testimony to the closeness and love of God. – Pope Francis
Dear Families,
It was so nice to see all the grandparents here on Monday! We had an incredible group of grandparents and guests here for our Morning Prayer and breakfast! We are so blessed and grateful to have such great families at our school; the smiles, hugs, and excitement was infectious! Grandparents Day is one of my favorite days of the year and I am so thankful for the love and support our families share.
I want to thank Coffee Mill and the Tracy Family for providing coffee for our grandparents on Monday. We truly appreciate your support! We also want to thank our Home & School Association for providing doughnuts for the morning!
Our fourth and fifth grade students are at Celebration Park, in Nampa today. They've been looking forward to this field trip since school started! This trip is so much fun, as they get to take part in great hikes, learn some history of our area, and participate in fun activities!
We held our Jog-R-Walk kickoff assembly, for students, on Tuesday afternoon. Our kids were so excited to start getting pledges for this fun event! This year's goal is $24,000 for our school. If we raise the funds, students will get to Color Bomb their Principal!! Fr. Rob and the teachers gave them a little extra incentive… they will join me if we go to $26 & $30,000. Last year our students and community went above and beyond, and surpassed these numbers. Let's do it again! You can find the pledge sheets and all the information in this week's family envelopes. Contact the office with any questions.
TVCS girls' basketball & wrestling will be starting on October 7th. Girls in grades seven and eight can play basketball and boys in grades six, seven, and eight can wrestle. Registration forms and fees can filled out and turned in online. Please see our TVCS WEBSITE for information and registration.
TVCS Band for students in grades 6-8 will be starting on Sept. 23rd. Information will be on the website above, and will also be on the school website. Our own Mrs. Bailey will be leading TVCS Band again this year. Thank you Mrs. Bailey!
Girls' 5th & 6th grade basketball will be starting soon as well. Our 5/6 teams compete against the other Catholic schools & Cole Valley Christian School. It is a fun league, and we are hoping for many participants from our 5/6 girls. More information will be coming out soon!
Our first TVCS dance, for 7th & 8th grade students, will be taking place on September 20th. The dance is being held at St. Mary's, from 7-9 pm. Cost is $5 and a can of food. Student ID or a letter from the principal is required for entry. Dance guidelines and permission slips will be coming home soon.
MAP Testing will be starting next week. Our students will be taking their standardized MAP (Measurement of Academic Progress) next week. These tests will be given to students in grades 2-8, in the areas of Reading, Language Usage, and Math. Grades 5 and 7 will also take a Science test. The testing is done twice each year, once in the fall and once in the spring. We are able to measure individual student growth in each area, over the course of a year, and from year to year. It is important that students understand that these tests are important for us as a school, to know how they are doing academically, and how we as a school are doing, meeting the needs of our students. Please have a conversation with your students about the tests, make sure they get plenty of rest and healthy meals. Thank you parents!
Have a great weekend!
In Christ,
Brock Carpenter